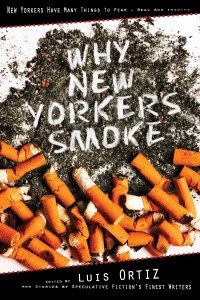 WHY NEW YORKERS SMOKE
New Yorkers have many things to fear – Real and Imagined.
This collection of original stories answers the question What is there to fear in New York City?, with creative responses from Paul di Filippo, Scott Edelman, Carol Emshwiller, Lawrence Greenberg, Gay Partington Terry, Don Webb, and Barry Malzberg, among others. The contributors represent a combination of New Yorkers, ex-New Yorkers, and wannabe New Yorkers, and the tales of the fears, both real and imagined, all use the city as their ominous setting. Blending the genres of fantasy, science fiction, and horror, the stories in this anthology showcase work from up-and-coming writers as well as veterans of fantastical fiction. Edited by Luis Ortiz (ISBN: 9781933065243; Trade paperback) To order.
To read the introduction to Why New Yorkers Smoke click here.