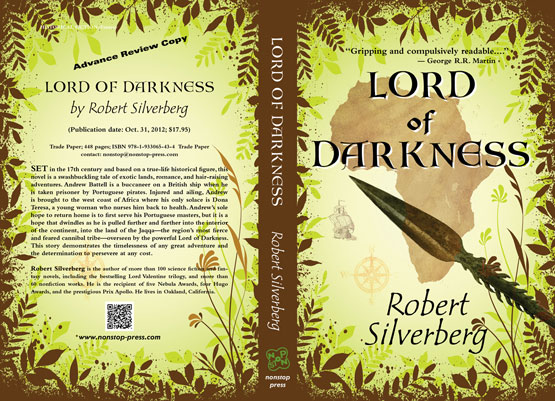 NONSTOP PRESS is bringing out the first new edition in thirty years of Robert Silverberg LORD OF DARKNESS, a book called "gripping and compulsively readable" by George R.R. Martin. The novel is one of Silverberg's rare ventures into historical fiction. Most of his notable body of work falls chiefly under science fiction.
SET IN the 17th century and based on a true-life historical figure, this novel is a swashbuckling tale of exotic lands, romance, and hair-raising adventures. Andrew Battell is a buccaneer on a British ship who is taken prisoner by Portuguese pirates. Injured and ailing, Andrew is brought to the west coast of Africa where his only solace is Dona Teresa, a young woman who nurses him back to health. Andrew's sole hope to return home is to first serve his Portuguese mistress then his Portuguese masters, but his hope for freedom dwindles as he is pulled further and further into the mysterious interior of the continent, into the land of the Jaqqa—the region's most fierce and feared cannibal tribe overseen by the powerful Lord of Darkness.
LORD OF DARKNESS will be published October 31 during Halloween in New York City. Nonstop Press senior editor Luis Ortiz said, "This is a unique novel that was overlooked when it first came out, booksellers did not know where to shelve it, but it is an exciting adventure story very much in the spirit of George R.R. Martin's recent work. I think the book was ahead of its time." Ortiz added that there will be an advance e-book version, under our new e-first/print-second program, available on the Nonstop Press website before the print edition comes out.
___________________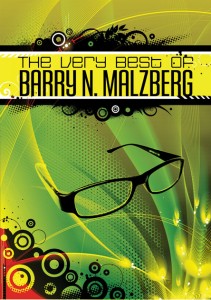 THE VERY BEST OF BARRY N. MALZBERG A new collection of what Malzberg himself considers his very best short fiction, this anthology showcases a literary career spanning almost 50 years, dozens of novels, hundreds of stories, and classic books. Each of the 32 stories in this compilation offers Malzberg's trademark vision of a future that is equal parts cautionary tale and social commentary. In the fictional world depicted in one story, dreams turn into frightening trips through time to reveal an ultimate horror; in another the rules in a war game change with every flip of the manic military command. Including pieces appearing for the first time in book form alongside rediscovered gems, these hand-picked selections exhibit his versatile imagination and the dark humor so characteristic of his work. The book also includes an introduction by Joseph Wrzos and should ship in late Feb. of 2013.
___________________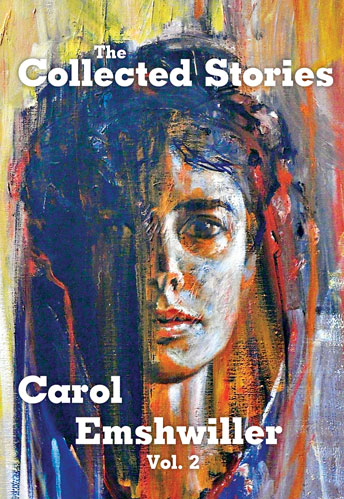 THE COLLECTED STORIES OF CAROL EMSHWILLER, Vol. 2. Including all of her fiction to date and additional stories not available in the first volume, this selection of 56 of Emshwiller's works demonstrate a range that is impressive and exemplifies her refusal to be labeled or to stick to one genre. This exhilarating new collection marks the first time many of her early stories have been published in book form. Volume 2 should appear early 2016. (Image shown above is the tentative cover design using a painting of Carol by her husband Ed Emshwiller.)
___________________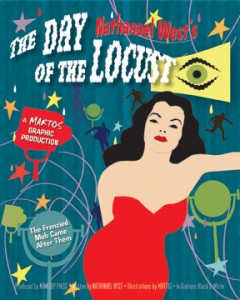 THE DAY OF THE LOCUST by Nathanael West – Art by Martos (ISBN 9781933065373; Trade paperback graphic novel)