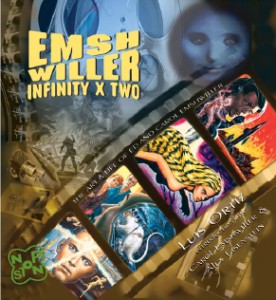 A Hugo and Locus Award nominee.
"Inspirational to aspiring artists and awesome for sf/fantasy fans." – Booklist
"[Luis Ortiz] writes with the grace and skill that makes you want to go out and track down Emshwiller's films and the art that isn't reproduced in the book."– Charles de Lint, Magazine of FANTASY & SCIENCE FICTION
"…meticulously researched…hits the high points of his subject's career, commenting knowledgeably on such topics as the influence of the surreal artists Dalî and Tanguy on Emsh's work." – Publishers Weekly

Ed "Emsh" Emshwiller, was one of the premiere artists working in the science fiction field (winning four Hugo awards). He used his unique multi-faceted vision of the future to also become an award winning avant-garde filmmaker and computer animation pioneer. Together Ed and his wife Carol formed a unique creative pair, inspiring each other on good days, and giving meaning to the adage "marriage and art don't mix" on bad days.
EMSHWILLER: INFINITY X TWO is the first biography to tell their story. Luis Ortiz has done a remarkable, and authoritative, job in this full-length, heavily illustrated bio of the Emshwillers. The book includes never-before-published art by Ed and Carol, who was an accomplished artist before she turned to writing. Besides being a definitive biography of Ed & Carol, EMSHWILLER: INFINITY X TWO also presents a concise social history of science fiction's subculture, and shows the nascent avant-garde film & video culture in New York City during the second half of the 20th Century. The book includes an introduction by Carol Emshwiller and a foreword by Alex Eisenstein. This is volume two of the Library of American Artists, from Nonstop Press.
See our product page for a new sale price for this book. Also available as a pdf edition download.
See our special bundle deal of The Collected Stories of Carol Emshwiller together with Infinity x Two: The Art & Life of Ed & Carol Emshwiller.