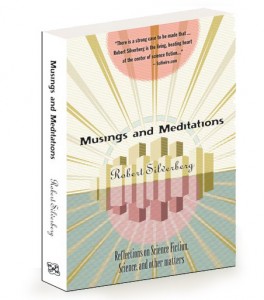 MUSINGS and MEDITATIONS: Reflections On Science Fiction, Science, And Other Matters
Trade paper; 344 pages; $18.95
… there are not many people you can talk to who remember what he remembers, and fewer who remember it with such acuity, charm, and a graceful even-handedness that sometimes borders on detachment, but just as often reveals glimpses of the primordial passion that attracted Silverberg to SF in the first place … " – Read full Locus review here.

"This delightful collection reflects Silverberg's wide-ranging interests, wit, and mastery of the craft." – Read full Publishers Weekly starred review here.

"Writers, science fiction fans, and readers who enjoy insightful, even controversial writing will find this collection invaluable." – Library Journal
PRESENTING essays from one of contemporary science fiction's most acclaimed and imaginative wordsmiths, this collection shows that Robert Silverberg's nonfiction is as witty and original as his fiction and full of acute observations and matter-of-fact insights. Whether he is discussing science fiction, history, cultural effects, science, or the nuts and bolts of writing, Silverberg is always exploring new territories. As in his fiction, no cultural icon escapes his scrutiny, including fellow writers such as Robert Heinlein, Arthur C. Clarke, H. P. Lovecraft, and Isaac Asimov. Herein you will find delightfully wicked commentaries on the concepts of thought-crimes, space exploration, the ancient Antikythera Computer, and the universal translator in science fiction.
From the Foreword "Reflections Of An Opinion-Monger" by Robert Silverberg:
"This is the second collection of the essays I've done in … thirty-plus years. The first, Reflections and Refractions, was published in 1997 by Underwood Books, and its 425 pages included most — not all — of my magazine pieces written between 1973 and 1996. This new volume picks up the thread from there and collects much of my 1996-2010 work (and one from 1995).
Many of the essays collected in this book, and in its predecessor, are personal ones. I don't just mean that they represent my own opinions — that should go without saying — but that a good many of them deal with my own books and stories, with my own life, with my own experience of being a science fiction writer. That should cause no surprise, and I offer no apologies."
See our product page to place your order.