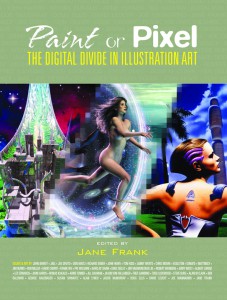 NOW 50% OFF Cover Price Sale — OUT-OF-PRINT
PAINT OR PIXEL is a collection of art and essays by the best of today's science fiction and fantasy artists. It presents candid dialogs behind the revolution now taking place in the SF and fantasy field. Are computers creating a seismic shift in the creation of sf&f art, or are they just another tool in the artist's paint box?  120 color illustrations.
INCLUDES ART & ESSAYS BY: • JOHN BERKEY • JAEL • JOE DEVITO • DON MAITZ• RICHARD BOBER • JOHN HOWE • TOM KIDD • JANNY WURTS • CHRIS MOORE • EGGLETON • DONATO • MATTINGLY • JIM BURNS • RON MILLER • DAVID CHERRY • FRANK WU • PAT WILSHIRE • BARCLAY SHAW • DAVE SEELEY • JIM VADEBONCEUR JR. • ROBERT WEINBERG • JERRY WEIST • ALBERT LORENZ • LES EDWARDS • JOHN HARRIS • ROMAS KUKALIS • ARNIE FENNER • JILL BAUMAN • JASON VON HOLLANDER • FRED GAMBINO • TODD LOCKWOOD • STEVE BURG • ALAN M CLARK • BEN BALDWIN • GEORGE HAGENAUR • SUSAN SHWARTZ • ALAN LYNCH • JACOB McMURRAY • DOUG ELLIS • DAVID LEUCHT • JOE MANNARINO • JANE FRANK •
Edited by Jane Frank,  the author of The Art of Richard Powers (a 2001 Hugo Award finalist) and The Art of John Berkey (2003).
See our product page for a new sale price for this book. Also available as a pdf edition download.